What to Bring | Licensed Employees | Substitutes | Helpful Information
---
What to Bring:

We will be taking your ID badge photo.  
1. Complete all of your new hire forms in Frontline.
2. Bring documentation to satisfy your I-9 requirements:
1 item from Column A
               OR
1 item from Column B (with a picture)* AND 1 item from Column C
*E-Verify Participation


3. There is no charge for fingerprinting for new employees.
---
Licensed Employees
What to Do:
1. Order Official Transcripts to be sent to Human Resources. 
We accept hard copy official transcripts and eTranscripts that are sent directly from the University/College to hr@jordandistrict.org.  eTranscripts that are forwarded from your email address, to us, are not valid. Transcripts MAY NOT be faxed.
An "Official Transcript" must show your degree and the date the degree was conferred. A key or legend (which identifies graduate hours) and term schedules (semester, quarters, etc.) must be provided. Once transcripts are submitted to the Human Resource Department, they become the property of Jordan School District and will not be copied or returned to the employee. 
2. Initiate Verification of Employment Experience
Verification of Employment Experience Form - This form is used to determine placement on the salary schedule for New Hires with the Jordan School District. Please mail or fax to the Jordan School District Human Resources Department, at the address or fax number listed on the form.
Original transcripts and verification of employment are required from you in order to place you on the salary schedule – DUE WITHIN 60 CALENDAR DAYS of hire date.
3.  USBE Background Instructions
If you need a fingerprint/background check for USBE, we will be completing it at your onboarding appointment.  Please complete the background check request here: https://usims.schools.utah.gov/
You will need to bring the USBE Background Instructions document and CACTUS ID with you to your onboarding appointment.  These instructions will look like the following: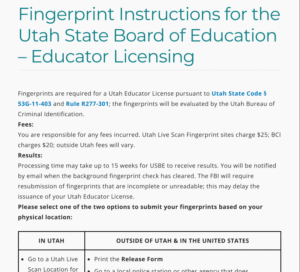 ---
Substitutes:
Please make sure you have completed the following trainings and have uploaded your certificates to your Employee Agreement or print them and bring them to your onboarding appointment.
---
Helpful Information:
1. To access your Jordan District email account please follow the instructions in the attached document - Employee Gmail Instructions
*Email access may not be available for 48 hours after you complete your onboarding appointment.*
2. Insurance Information - For more information on insurance options, please contact our Insurance Department